Comprehensive Digital Marketing Strategy for HVAC Businesses
Finally, a marketing team that understands your industry. Delegate the key marketing responsibilities for your business
Grow your Heating & Air Conditioning business while handing off all your key marketing responsibilities to a team you can trust.
Get a Website that Matches Your Brand & Reputation
Grow your online presence with a professionally designed and custom-branded website to match your company's established reputation. When homeowners are searching for HVAC help, a first impression may be the only opportunity you get to earn their business. We make sure your website has the best chance of getting that opportunity to serve them.
Grow your Google My Business Rankings
Competition on your Google My Business is at an all time high for Heating & Air Conditioning businesses. But how do you actually influence your own listing's growth? We will properly track the rankings of your business and implement the necessary efforts to grow your GMB presence and get new opportunities for business.
Build Clarity in Your Messaging to Residential & Commercial Customers
Each Heating & Air Conditioning company understands the best opportunities to serve their community and see a great return on investment. Clarify your messaging for both your residential and commercial customers and build competitive advantages around your services so you start serving more of your ideal customers.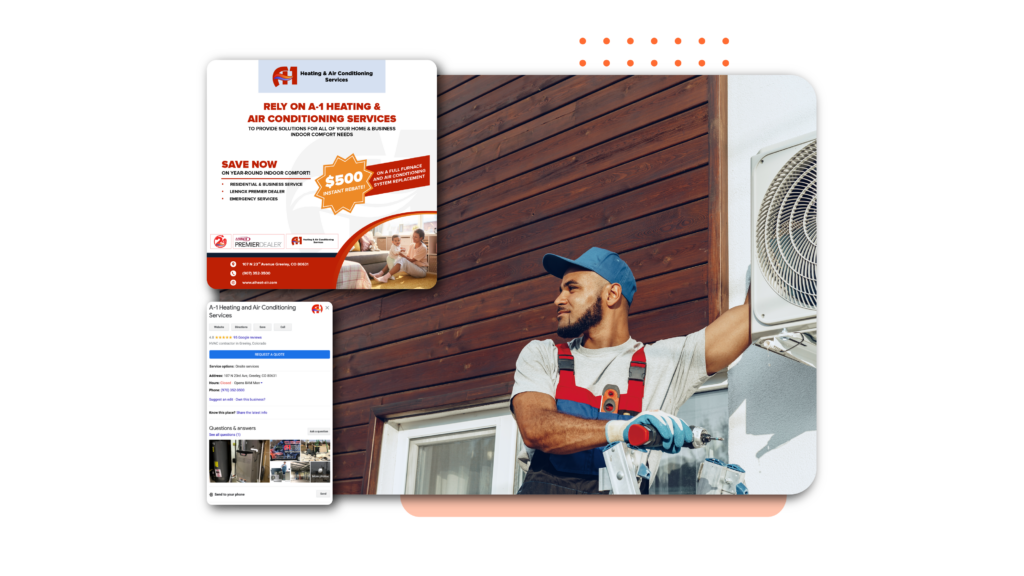 Connect with your customers through multi-channel efforts
We collaborate with you to reach your customers through the best digital marketing channel at your disposal. Build a cohesive brand strategy to target your customers through Social Media, Google, outbound advertising efforts, and email marketing.
Discuss a Comprehensive Digital Marketing Strategy for HVAC Businesses
Centralize your marketing efforts in one place.
Schedule a call to see how we can collaborate on a comprehensive digital marketing strategy for your HVAC business